Back to top
Kathy Peterson's clever approach to home décor and inspiring DIY projects has helped people discover their own personal creative style. Kathy's fun and decorative approach is reflected in all her DIY projects using simple, colorful and creative methods.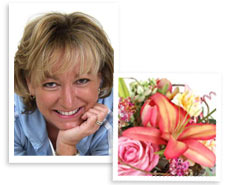 Kathy began her career working for Hank Williams, Jr. as an assistant then later went to work for The Grammy Awards in Nashville, Tennessee where she worked on music showcases and memberships for four years. Thereafter, she went on to become a successful national television producer, director and writer producing the long lived PM MAGAZINE lifestyle TV series. In 1984, Kathy Peterson Productions, Inc. was launched where she produced hundreds of corporate videos for large corporations. She also produced and directed numerous television segments directing Ed Begley, Jr., Roy Rogers & Dale Evans, Sam Snead and other celebrities.
Today, Kathy Peterson Productions, Inc. (www.KathyPeterson.com) focuses on celebrity spokesperson services, creative design, product launches, licensing, product development and consulting, television, endorsements, and publishing. In addition to her diversified career, Kathy also was a successful retailer of a small antiques business selling and hand painting vintage furniture and accessories before shabby chic became a trend.
For the last 20 years, Kathy has resided in South Florida with her husband Tom of 20 years along with her four step children. Although born in Minnesota, she considers herself a southern girl having lived in Georgia, Alabama and Tennessee.

Back to top
P: 561.744.2086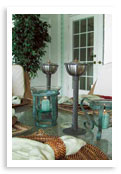 E: Kathy at KathyPeterson.comn
QUIZ: What's Your Outdoor Decorating Style?
Do you like to entertain outdoors
Does your porch or patio reflect the same colors and style from inside of your home?
Do you like to have coffee and read the paper in morning outdoors?
Do you use your outdoor space as an additional room?
Budget Decorating Ideas

Go on a Treasure Hunt in Your Home
Paint is inexpensive yet give Big impressions
Rejuvenate old furniture with fabric and paint
Repurpose everyday items into new ideas such as using a ladder as a plant holder, position a mirror on a table, float candles in a birdbath
Patio Entertaining Ideas
Decorating gets people in the mood to celebrate
Create an out-of-the-ordinary theme such as a spa, rock garden, or antique theme
Use lots of fresh cut or potted flowers
Use lots of cushions for comfortable and colorful seating
Decorating with Flowers or Potted Plants
Use edible flowers as food garnishes
Surround serving plates with flowers for a fresh new look
Tie a flower onto a napkin for a creative napkin ring
Place small potted herbs at each place setting for spicing up food or as a party favor
Float flower heads in a bowl of colored water
Holiday Home Décor
Out of the $13.5 billion spent on seasonal and party decorations market in 2003, consumer spending on the Fourth of July accounted for $640 million in total sales according to Unity Marketing
Enhance permanent wreaths with fresh cut greenery
Use a single color for more impact on a Christmas Tree
Don't forget the bathroom, a simple holiday embellishment attached to a stack of towels can have real impact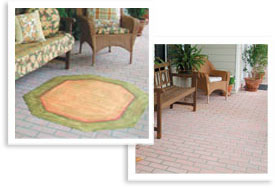 Old Patio/New Look & Feel
Create a fresh new look by painting a porch or patio floor using a faux tile look
Create conversation areas by grouping two chairs and a small table
Anchor furniture groupings with rugs